8 Great Spots for Wedding Photo Backdrops in the Adirondacks
With the abundance of locations to get married in the Adirondacks comes an equally-daunting variety of places to shoot your wedding photos – docks overlooking pristine lakes, rocky mountaintops with stunning vistas, and everywhere in between. We asked four local photographers to share their favorite places to shoot wedding photos in the Adirondacks and they shared their top picks to help you plan for your big day. These eight venues scattered throughout the region provide stunning backdrops and unique photo opportunities in any season.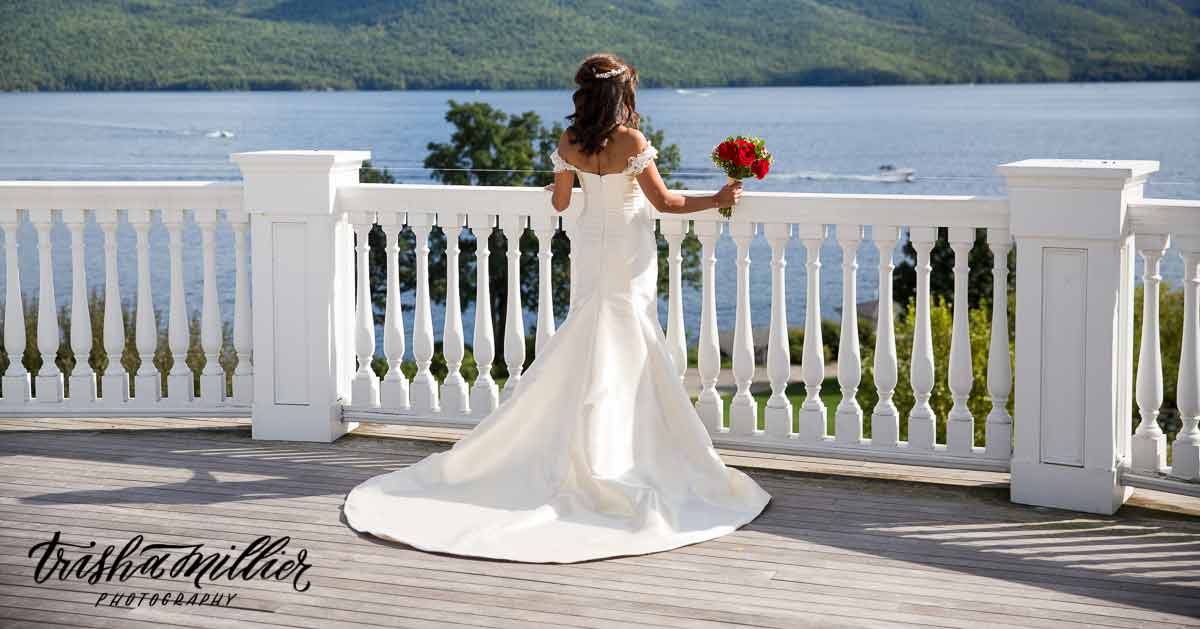 THE SAGAMORE
Trisha of Trisha Millier Photography recommends The Sagamore for iconic Adirondack wedding photos. Thinking of selecting Lake George for your Adirondack wedding? "When couples choose Lake George for their wedding destination, no doubt they are envisioning the expansive views of mountains, lake, and islands dotted in between," says Trisha. "The Sagamore Resort is probably my favorite Lake George venue. It offers unsurpassed views at every angle and so many different backdrop options from its lakeside gardens and pool decks to the terrace and boat dock. It is elegant and casual all at once." *Please note, as of August 2020, Trisha Millier Photography is no longer in business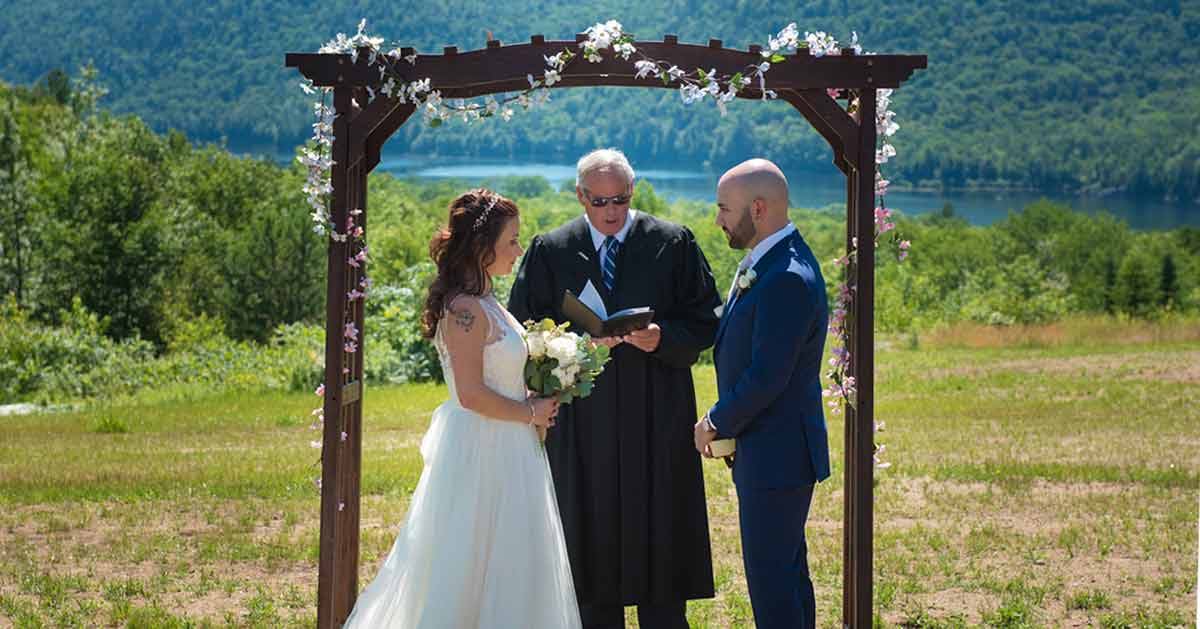 GARNET HILL LODGE
Jim McLaughlin of McLaughlin Photography suggests Garnet Hill Lodge in North River. The resort overlooks Thirteenth Lake in the heart of the Adirondacks, and its history dates back to the early 1900s. If you choose to get married there, the resort is all yours for your wedding weekend, meaning everything from your rehearsal dinner to your ceremony will be set against the lodge's scenic views. Ceremonies are held on the sloping lawn overlooking the lake, and there are plenty of places for great portrait opportunities at the top of the mountain or down by the water.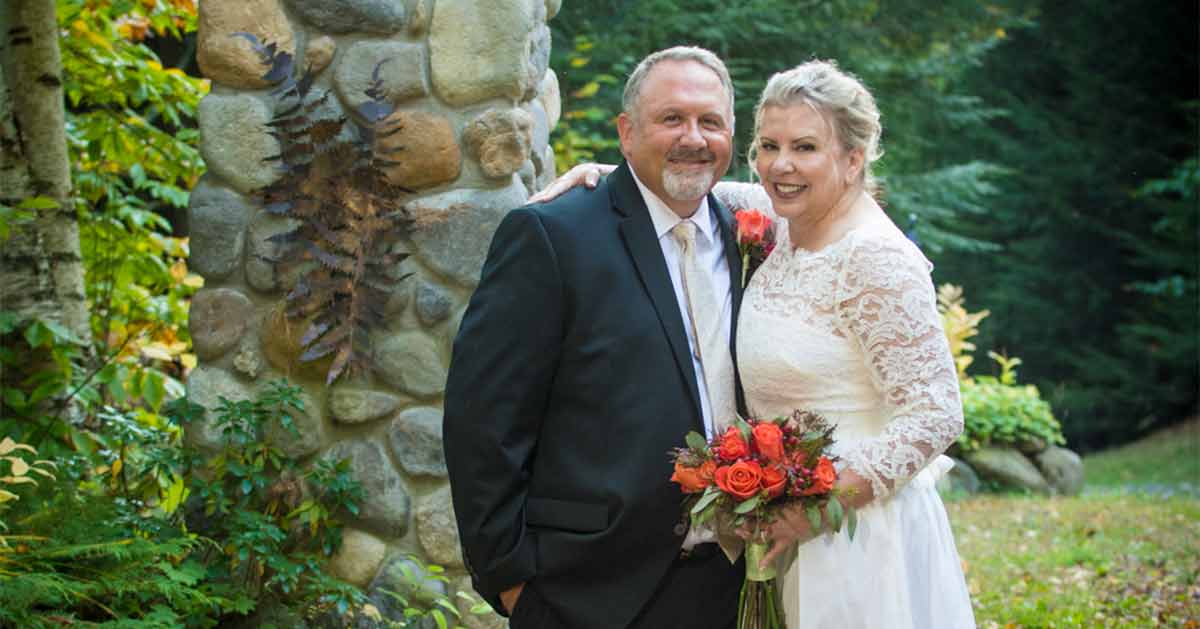 FERN LODGE
Fern Lodge is also one of McLaughlin Photography's favorite locations for Adirondack wedding photos. The small resort sits at the edge of Friends Lake and offers elopements and petite weddings. They have beautiful gardens with many stone steps leading down towards the secluded lakefront view, perfect for candid shots during the ceremony and for taking portraits afterwards.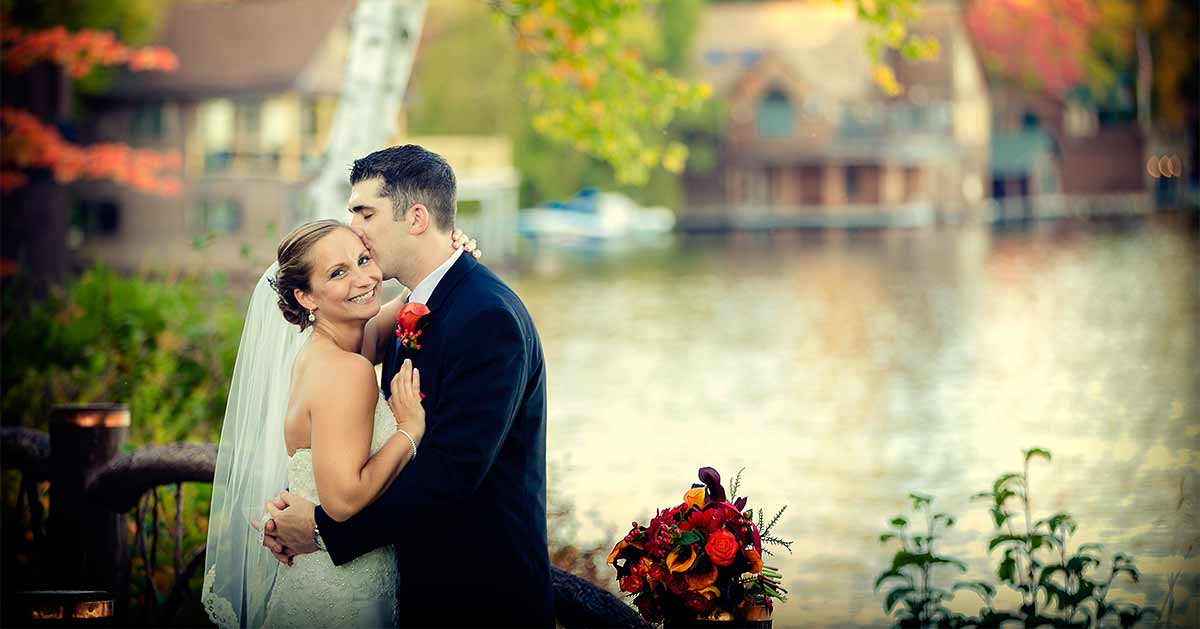 WHITEFACE CLUB AND RESORT
Jeff from J. Foley Photography suggests the Whiteface Club and Resort in Lake Placid. The venue has several gardens and extensive grounds that are perfect for posing for wedding photos in any season. The resort also has a lakeside ceremony location with a stunning view of Whiteface Mountain in the background.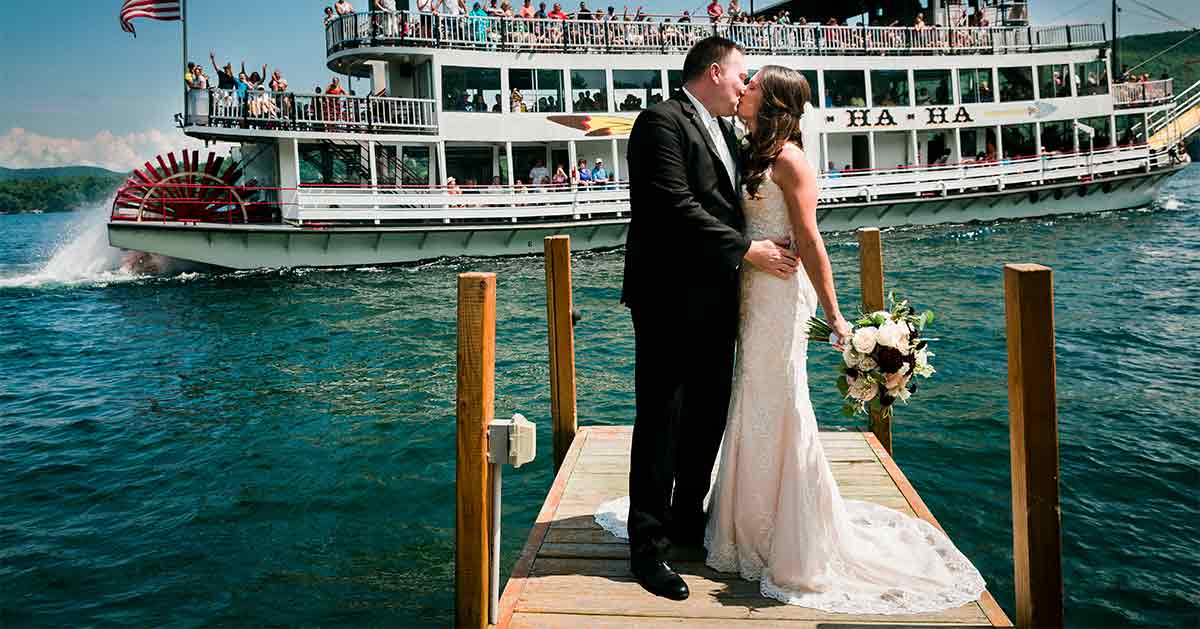 INN AT ERLOWEST
If you're looking to get married in the southern Adirondacks, J. Foley Photography suggests the Inn at Erlowest. Located on the shore of Lake George, the inn is actually a large stone castle perched on a sloping lawn that leads down to the water. As if the castle wasn't romantic enough, the inn's docks are situated along the path of the Lake George Steamboat Company's boats, so you'll likely catch them the background of your photos if you get married in the summer.
Trisha Millier Photography also recommends this venue. "Tucked down a winding drive, it feels like a piece of Europe in the Adirondacks and it immediately transports you to another era."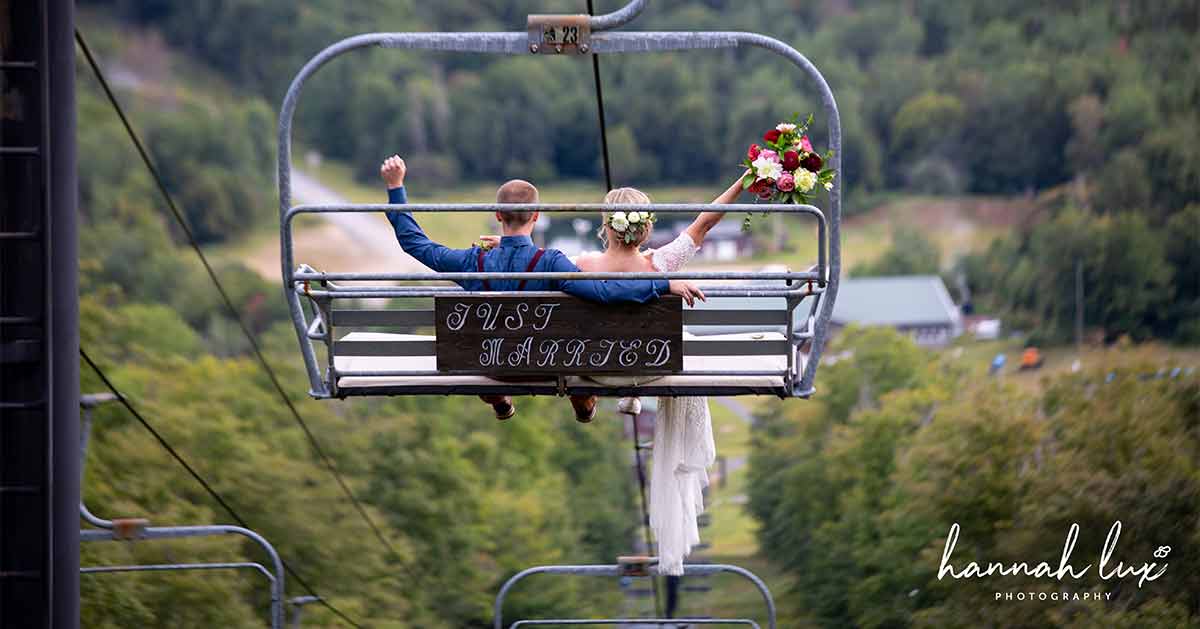 OAK MOUNTAIN
Oak Mountain is a ski resort in Speculator that does mountaintop weddings. Hannah from Hannah Lux Photography recommends this resort for its unique opportunities. "The bridal party [enters] the ceremony at the top of the mountain via ski lift."
You can have your photos taken at the top of the mountain overlooking the endless mountains that fade into the distance. The bride and groom descend the mountain together on their own ski lift, which provides another great photo opportunity.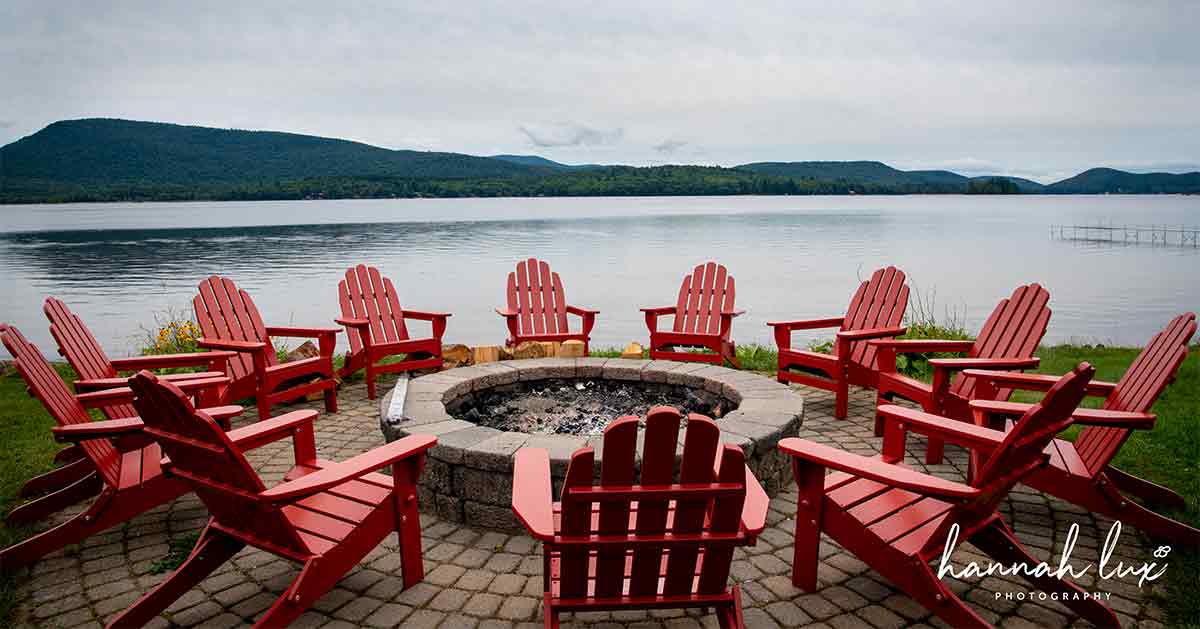 LAKE PLEASANT LODGE
Hannah Lux Photography also recommends Lake Pleasant Lodge, which is located near the base of Oak Mountain and overlooks the lake. If you're getting married on Oak Mountain or in Speculator, this lodging option offers a pristine backdrop. With a gazebo, a fire pit surrounded by Adirondack chairs, and a stretch of beach, there will be many great places to pose for photos before and after your wedding.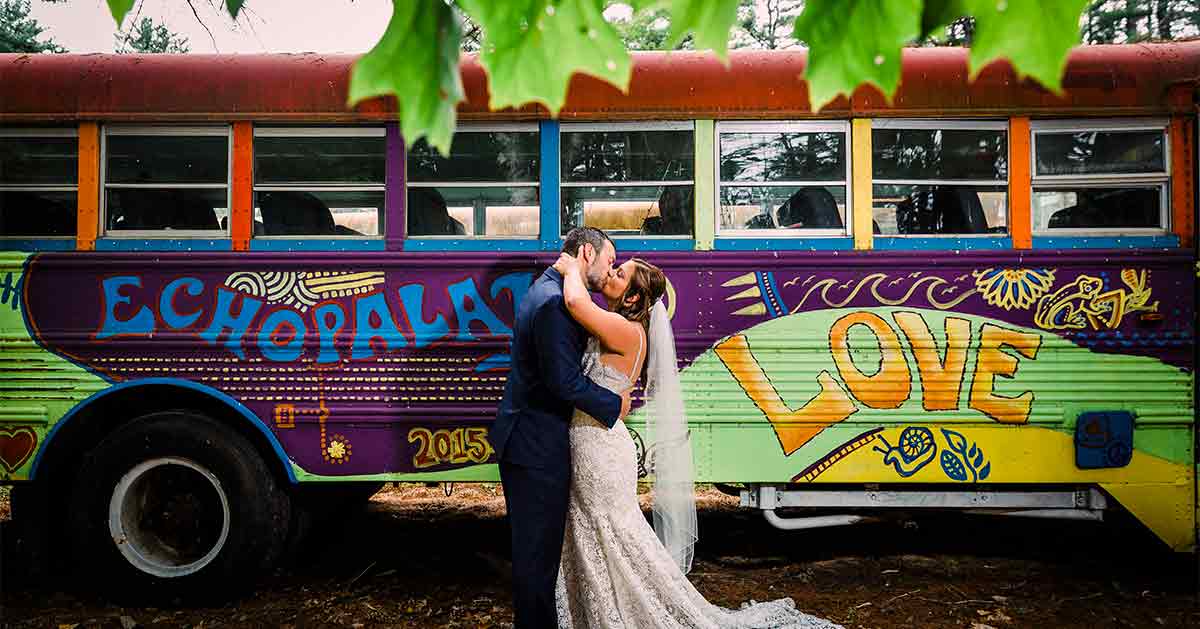 JIMBO'S CLUB AT THE POINT
Jimbo's Club at the Point comes recommended by three photographers. The image above is courtesy of J. Foley Photography, and the image below is provided by McLaughlin Photography. Located on Brant Lake, Jimbo's Club has three outdoor ceremony venues. You can get married (or take your portraits) under a grove of pines, along a sandy strip of beach, or in a secluded cove. "The venue is on a peninsula," says Hannah of Hannah Lux Photography, "totally self-contained and totally gorgeous." They also have an indoor ceremony spot, and a large, rustic reception hall, both with plenty of windows overlooking Brant Lake and the Adirondack Mountains.