Elopement Packages And Locations In The Adirondacks
Considering an elopement to the Adirondacks? Imagine your quiet wedding nestled in the picturesque mountains, surrounded by the natural beauty of the Adirondacks. Maybe your style is that of one of the serene bodies of water in the area, like Lake Placid. Or maybe you're more of a high peaks person, and the idea of looking out over the region from the top of one of the mountains is what you are dreaming of. Any spot in the Adirondacks would make a perfect backdrop for a memorable day that you and the few people you invite will remember forever. Take a look at some of the more popular ceremony sites that are perfect for a small intimate wedding below. And remember, the Adirondacks are not just great for couples who wish to elope – the Adirondacks are one of the top locations for Destination Weddings in the country.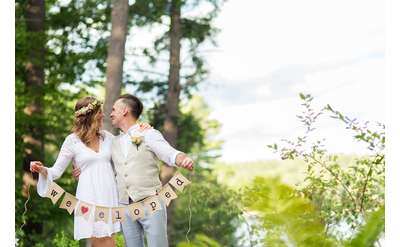 Fern Lodge
Chestertown, NY
Luxurious lodge overlooking Friends Lake- perfect for elopements, honeymoons and petit weddings!
A private lakefront estate for a most romantic wedding destination or elopement. The gardens and lake view make a fabulous back drop for your ceremony. The Great Room can seat up to 16 persons for reception dinner. Fire pit for after party.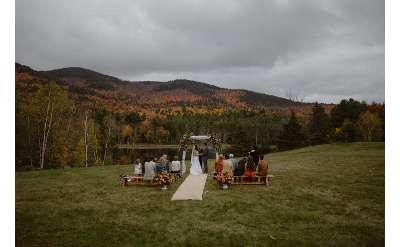 Moon Meadow
Jay, NY
A 50-Acre, Outdoor Wedding Venue in the Adirondacks
Moon Meadow offers access to the 50-acre meadow, 25-acre lake, and over 3 miles of hiking trails for your quintessential Adirondack wedding. They can accommodate a variety of events and sizes, and will help customize your perfect day.
Whiteface Club & Resort
Lake Placid, NY
An award-winning venue in the heart of the Adirondacks.
Whiteface Club & Resort believes that no wedding is the same, and that's why they personalize your special day to your needs. They guide each couple to make their own decisions so the day turns out just the way each bride and groom envisions.
Burlap and Beams
Athol, NY
Burlap & Beams is a unique and beautiful wedding venue located in the heart of the Adirondacks! The location is a rustic vintage style venue that whispers of history and promises elegance on your wedding day!
Forest Lake Camp
Chestertown, NY
Schedule your private wedding retreat at Forest Lake Camp. Nestled in the Southern Adirondack Mountains in upstate NY, our gorgeous, natural setting & authentic Adirondack facilities offer a unique & unforgettable destination for you and your guests.