Want To Have A Modern Adirondack Wedding? Find Out What's New!
Are you thinking about getting married in the Adirondacks? Beautiful in any season, the region provides the perfect setting for your wedding. One of the oldest and largest protected wildlife parks in the country, the Adirondack Mountains are full of stunning backdrops for your ceremony – from majestic mountaintops to sparkling blue lakes – and rustic, historic locations for your reception.
With tons of venues to choose from – resorts, historic inns, steamboats, barns – you have many options. We've spoken to some of these venues to find out what's new and popular when it comes to Adirondack weddings.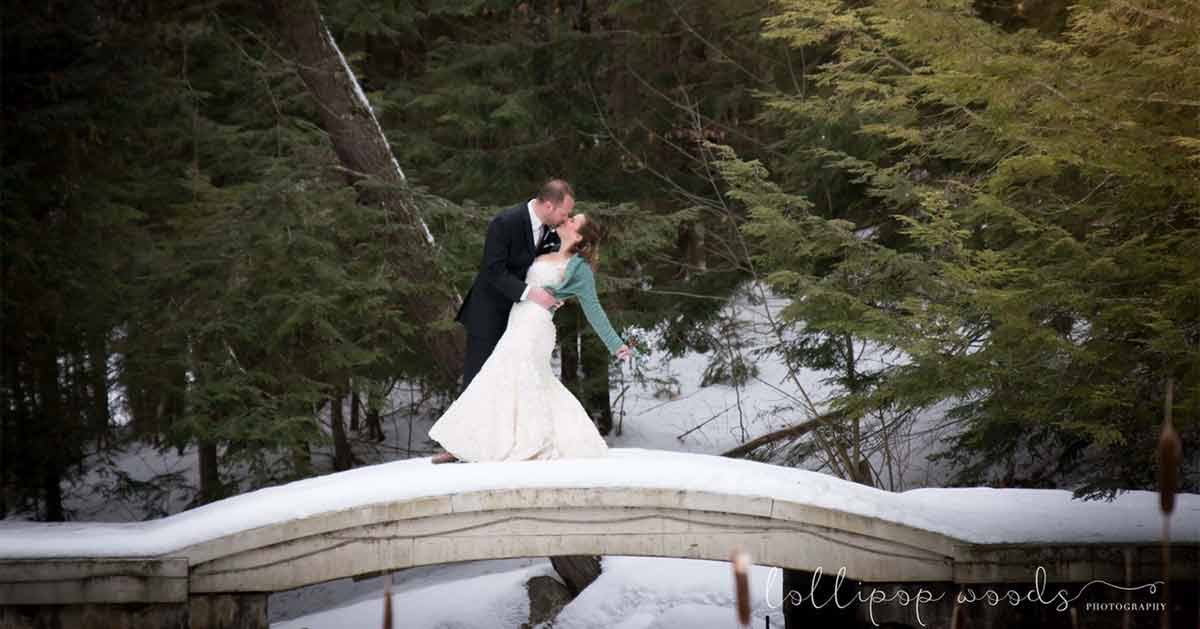 PETITE WEDDINGS
If you're looking for a small but cohesive event, look no further than the petite wedding.
"More and more brides want an all-in-one destination where they have an intimate surrounding, high quality food, boutique service where all the details are planned for them…. A place where they can relax with their family and close friends," says Tammy of Friends Lake Inn in Chestertown. Friends Lake Inn's Adirondack Petite Wedding Package, which allows for up to 22 guests, includes most of what you'll need for your big day, making the process simpler and more enjoyable.
Like a destination wedding, a petite wedding will enable you to offer your guests a complete experience and a specific regional atmosphere. The focus, however, is quality over quantity. If you're comfortable with a small guest list of only your closest friends and family, you can throw a nicer (and less expensive) wedding if you go petite.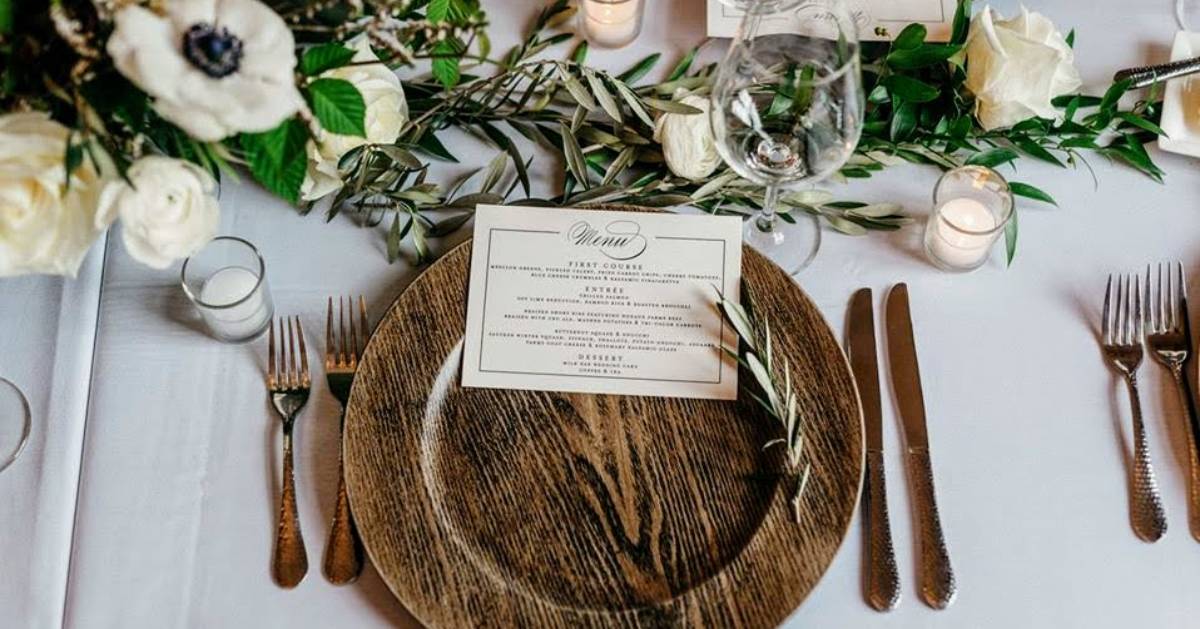 ALL-IN-ONE
Regardless of the size of the wedding, we're seeing Adirondack venues offering packages that allow you to have your rehearsal dinner, ceremony, and reception all in one place, often with onsite catering. Hotel Saranac in Saranac Lake is one such venue. In addition to their Grand Ballroom they have unique spaces excellent for a cocktail hour or rehearsal dinner – their Adirondack-inspired on-site kitchen won't disappoint!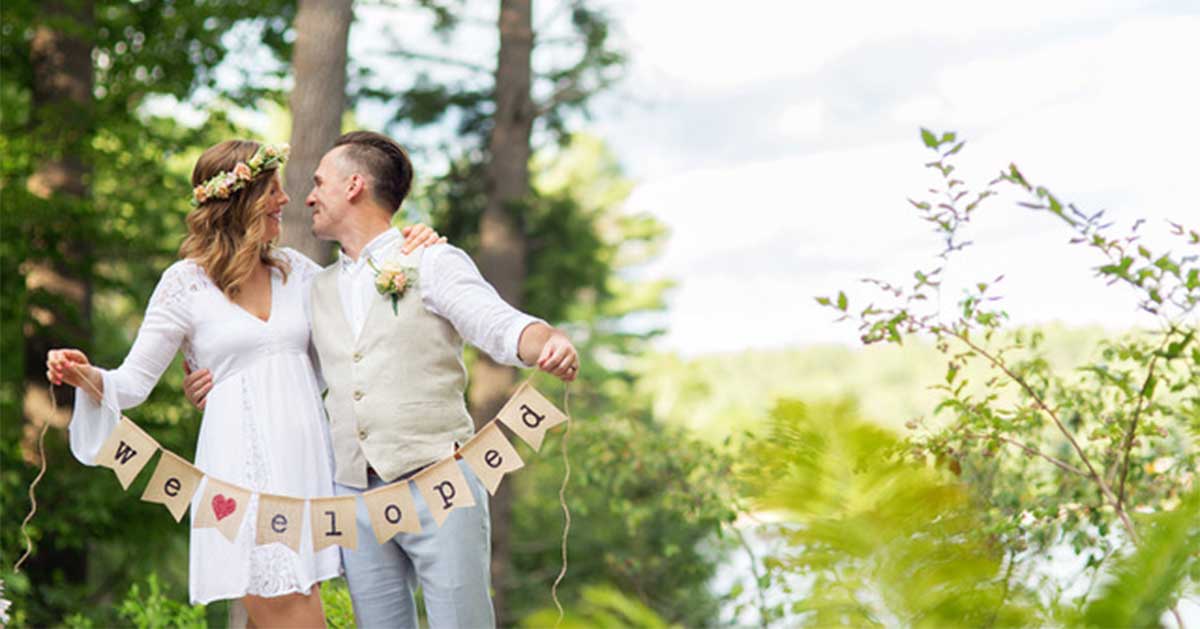 PLANNED ELOPEMENTS
Planned elopements are similar to the Petite Wedding, only tinier and more spontaneous. If you want to elope, but prefer to still do a little planning and have a romantic setting when saying your vows, you can arrange an Adirondack elopement at a venue like Fern Lodge. They offer an elopement package for the couple and up to two guests that includes an officiant and witness, wedding cake, champagne, and a bouquet. If you'd like to hire your own officiant, check out North Country Nuptials and The Officiant.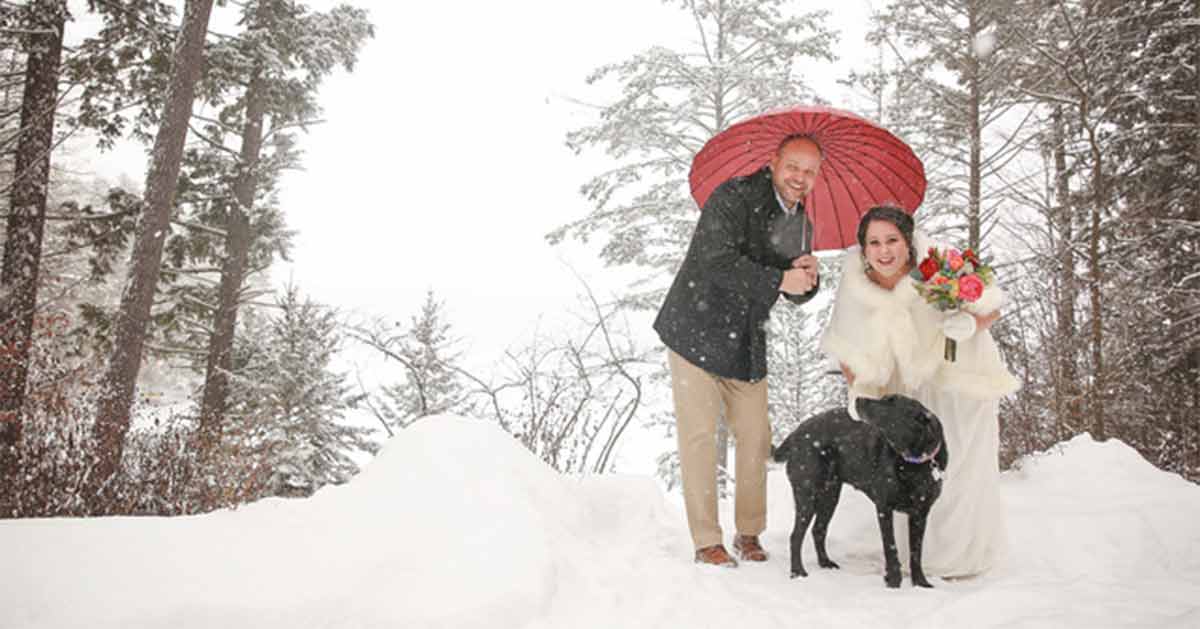 EMBRACING THE SEASONS
Summer might traditionally be wedding season, but booking your wedding in the winter months can have its pluses. Embrace the snow and classic Adirondack rusticity like couples are at Fern Lodge. Run with the theme — make your dress, and your bridesmaids' dresses more wedding-appropriate with fur and take advantage of the opportunity for some fun, unique wedding photos.
At Golden Arrow Lakeside Resort, the most popular time to get married is late August to late October, when couples take full advantage of the foliage. Spring is also a beautiful time to book your Adirondack wedding, but the Golden Arrow suggests avoiding summer if you don't already have your heart set on a summer date. You'll end up in the middle of tourist season crowds. Instead, try to choose another season when you can enjoy the Adirondack Mountains in all their pristine glory.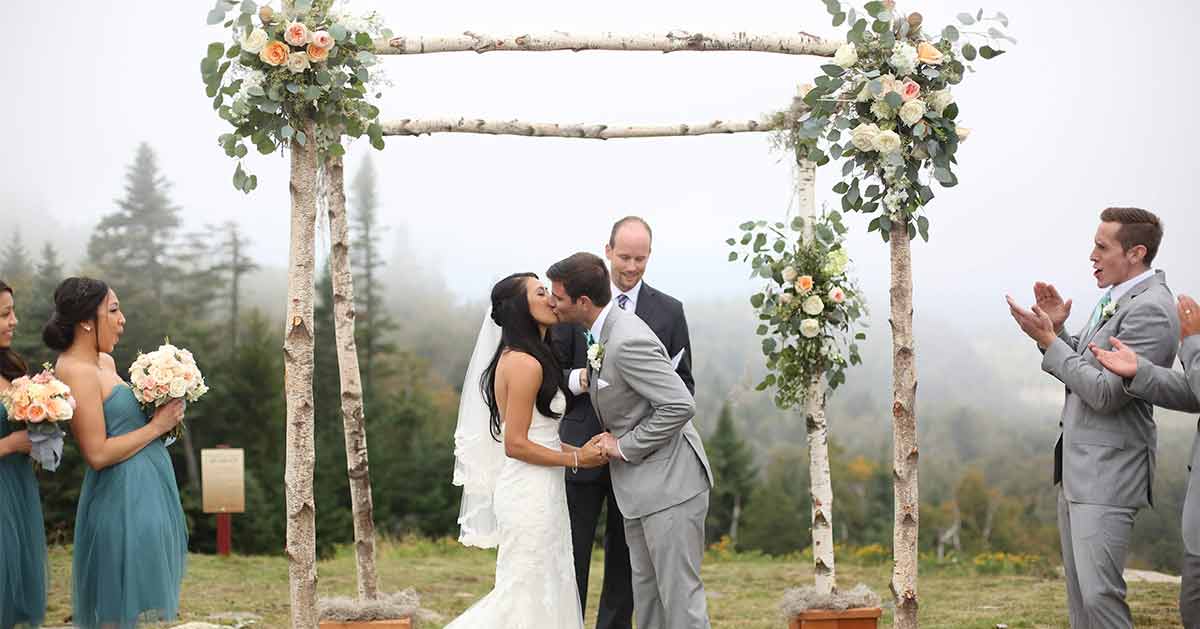 MOUNTAINTOP VOWS
Looking for a backdrop for your vows that your guests will never forget? Get married on top of a mountain, such as Gore Mountain in North Creek.
"Gore's mountaintop weddings are growing in popularity with skiers and non-skiers alike," says Cindy from Gore Mountain. "The 8-passenger Northwoods Gondola offers easy access for friends and family members to our scenic mountaintop ceremony location.  With a natural backdrop of the Adirondack Mountains, a unique and memorable occasion can be created on almost any budget."
The views will be gorgeous regardless of the season, and you'll literally be feeling on top of the world on your big day.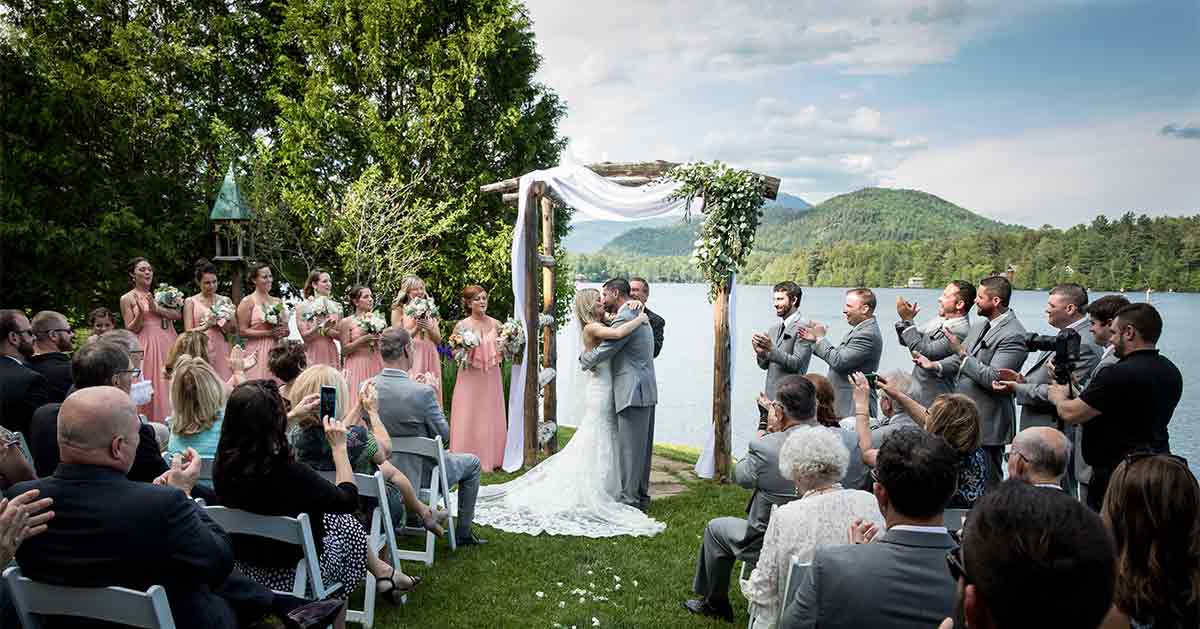 LAKESIDE CEREMONIES
Like a beach wedding, only with an Adirondack spin. Many local venues are situated beside lakes and take full advantage of the scenery. The Lodge on Echo Lake for instance, offers several venue options and one of them is in front of Echo Lake. Your vows will be framed by the peaceful waters and mountains. Plan your ceremony for sunset or during the fall for added color.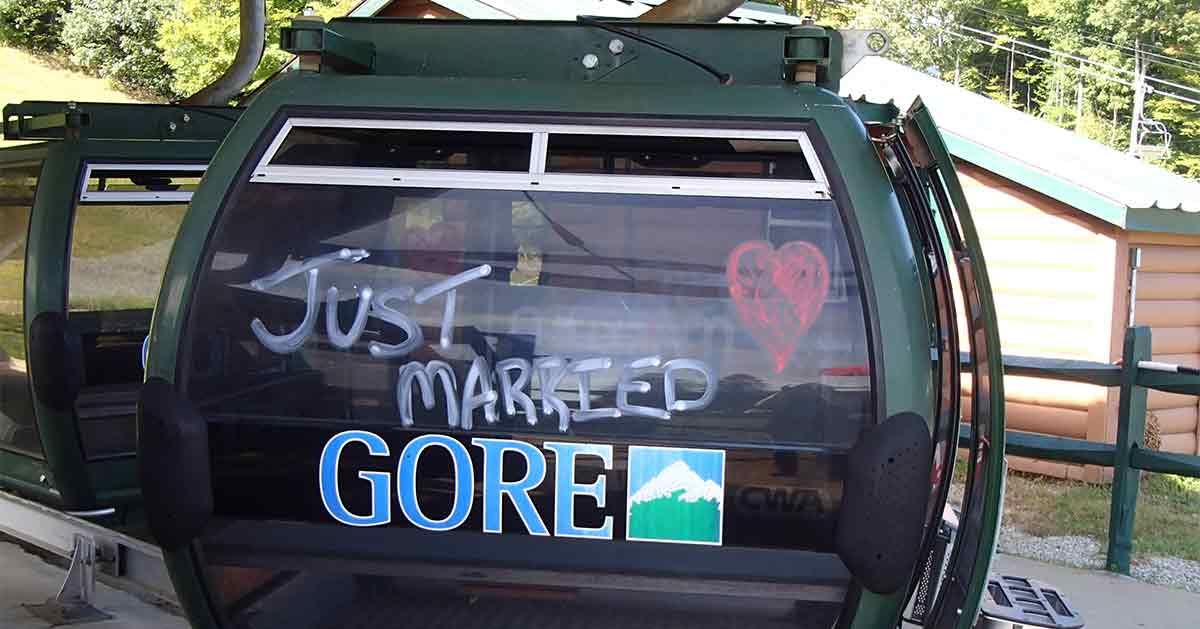 UNIQUE ACTIVITIES
Branch out from the typical reception and book some memorable activities. The Adirondacks are full of outdoor recreational opportunities, so why not embrace them? At Gore Mountain, "optional attractions to add a little recreational fun to the day include mini golf, climbing walls, a bungee trampoline, and an obstacle inflatable." This is a great idea if you and your guests love outdoor activities. You'll also end up with some really unique photographs from your reception.
Regardless of the size, season, or setting of your wedding, the Adirondacks have plenty of options to choose from, all of which embrace its stunning natural landscape.