Discover How You Can Have the Perfect Mountain Wedding at Gore
If you love the idea of an Adirondack-style wedding but want to branch out from the traditional rustic venues we have the answer for you! Weddings at Gore Mountain combine Adirondack charm with mountain vistas for a unique and memorable celebration.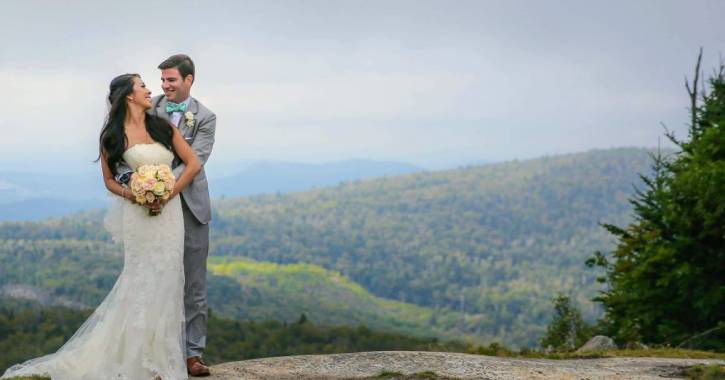 Choose Between a Mountaintop or Lower Mountain Location
With seemingly endless wedding venues to choose from, it can be hard to narrow down your choices and select a spot that aligns with your budget, location, and style criteria. Lucky for you, Gore Mountain satisfies all your needs!
Gore is one of our favorite places to ski as well as one of our favorite wedding venues on the East coast. This hidden gem is located a half hour north of Lake George in the heart of the Adirondacks.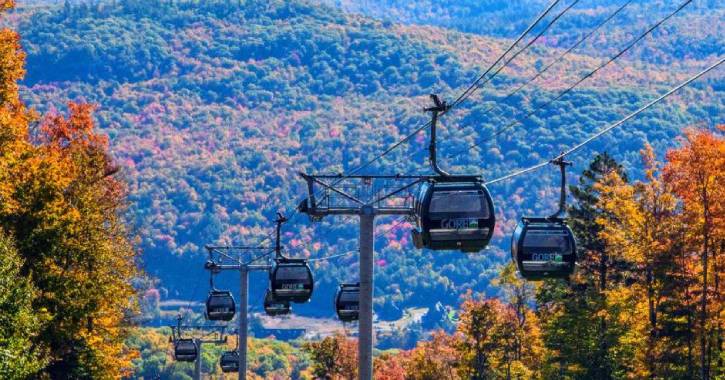 Gore's ceremonies whisk your guests away on an open-air chairlift or enclosed gondola ride to scenic locations featuring panoramic views, where you can expect that every photo of your special day will be picture perfect.
If you opt for a ceremony at the Saddle Lodge, you'll take an open-air skyride on the Adirondack Express chairlift. After your vows the party moves inside the newly renovated lodge for cocktail hour, and then you head back to the Base Area for your reception at the Tannery Banquet Hall.
At Gore you'll literally be in the middle of the Adirondack Park with Mother Nature providing the perfect decor for your special day. And when's the last time you got to ride a gondola at a wedding?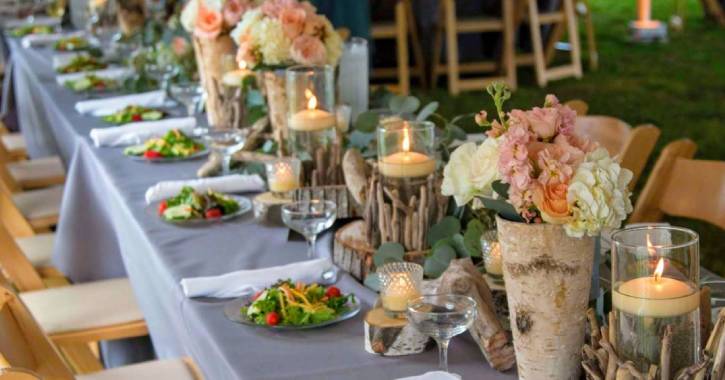 Gore offers prime lower mountain options for weddings as well with the Tannery Banquet Room and the Slopeside Patio off the Base Lodge. The Tannery Banquet Room has vaulted ceilings, large windows, and stunning natural lighting.
The Slopeside Patio situated off the Base Lodge offers views of the foothills of Bear Mountain and the Northwoods Gondola. The lawn by the patio can easily accommodate large tents, a dance floor, and anything else you need for a charming outdoor wedding.
Gore's on-site catering offers a range of menus from the more causal "Adirondack Backyard Barbecue" to elevated chef carving stations. No matter your taste or budget there is a menu that seems it was created especially for you.
Upgrade Your Wedding With These Add-On Options
Move aside wedding reception lawn games you may have played before! Gore offers many fun enhancements from post-reception fireside s'mores and fireworks to unique base area games and attractions like a zipline, climbing walls, a bungee trampoline, and obstacle inflatables.
Just imagine the incredible wedding photos you could end up with – your cousin in mid-air on the trampoline, your maid of honor flying down the zipline – the possibilities are endless!
Other add-on options include a dance floor, round table tops for cocktail hour, a patio chiminea for a roaring fire, mountaintop equipment and chair delivery to make set up and breakdown easier for your wedding party, and you could even have fireworks round out the evening.
Wondering about inclement weather? We answer that and other frequently asked questions below:
Your Pertinent Questions Answered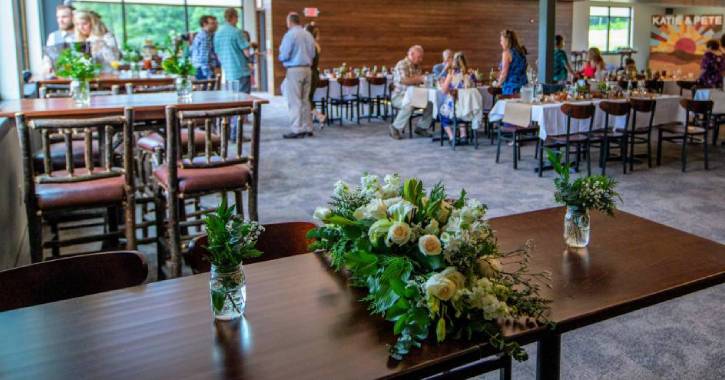 I'm hoping for sunny skies for my outdoor ceremony – what if it rains?
There's always a backup space indoors in the occasion the weather does not cooperate! The staff also does their best to accommodate minor timelines changes in the hopes of making vows with a view a reality.
What's the maximum number of guests allowed?
The Tannery Banquet Room can hold up to 260 people with a sit-down dinner and dance floor. Ask about additional venues that can serve between 25 and 300 people.
What kind of pricing are we talking about?
The standard wedding packages start at $66 per guest, which does not include bar pricing or the ceremony fee for the chosen location.
Ready for More?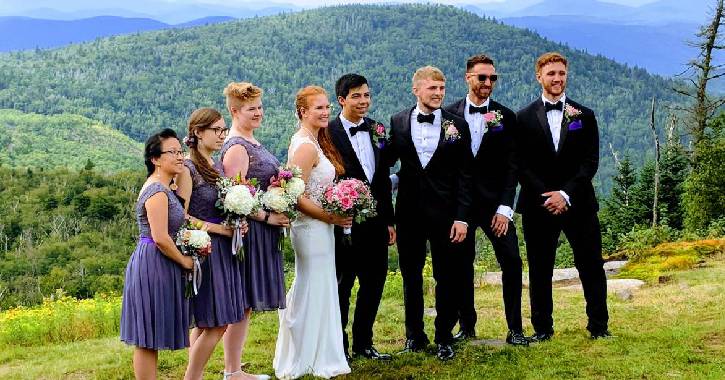 Now that we have you dreaming of an Adirondack wedding set high on a mountaintop, reach out to Wedding Coordinator Ashley O'Connor at AOConnor@GoreMountain.com and set up a tour to check out your options in person.
Already have your wedding venue selected? You should still plan to host your welcome reception, rehearsal dinner, or farewell brunch at Gore!