Our Location
Mannix Marketing, home of ADKweddings.com, is located in the Fenimore Building in downtown Glens Falls, New York, in the foothills of the beautiful Adirondack State Park of northern New York.
How To Get Here:Take I-87 (The Adirondack Northway) to Exit 18, go "EAST" toward the hospital (follow blue hospital signs). From the exit ramp, you will go exactly 1 mile through 4 lights, at the third light you will be facing a Stewarts, Veer right. You will go through 2 lights and pass the hospital, immediately after the hospital is a Pizza Hut, attached to the Pizza Hut is OUR building. Take a right at the light at the Pizza Hut onto Elm Street. Take another right onto Park Street and an immediate right into the parking lot. We are on the third floor.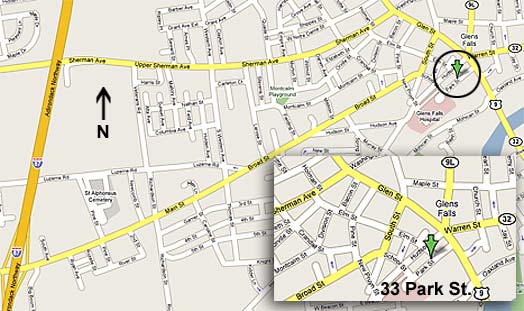 For personalized directions, please click on the map above.