Plan the Perfect Adirondack Camp Wedding
Getting married in the Adirondacks means having a seemingly endless variety of choices for your venue. If you're looking for the quintessential Adirondack wedding, however, look no further than the classic camp aesthetic. The tradition of the Great Camps dates back to the Gilded Age, when the elite chose the pristine wilderness for their summer homes. They left behind a legacy of unmistakably-Adirondack architecture that lives on in the lodges, camps, and resorts that are now the perfect places for a truly memorable wedding. Embrace the rustic charm and natural beauty of the region and opt for the Adirondack camp wedding of your dreams.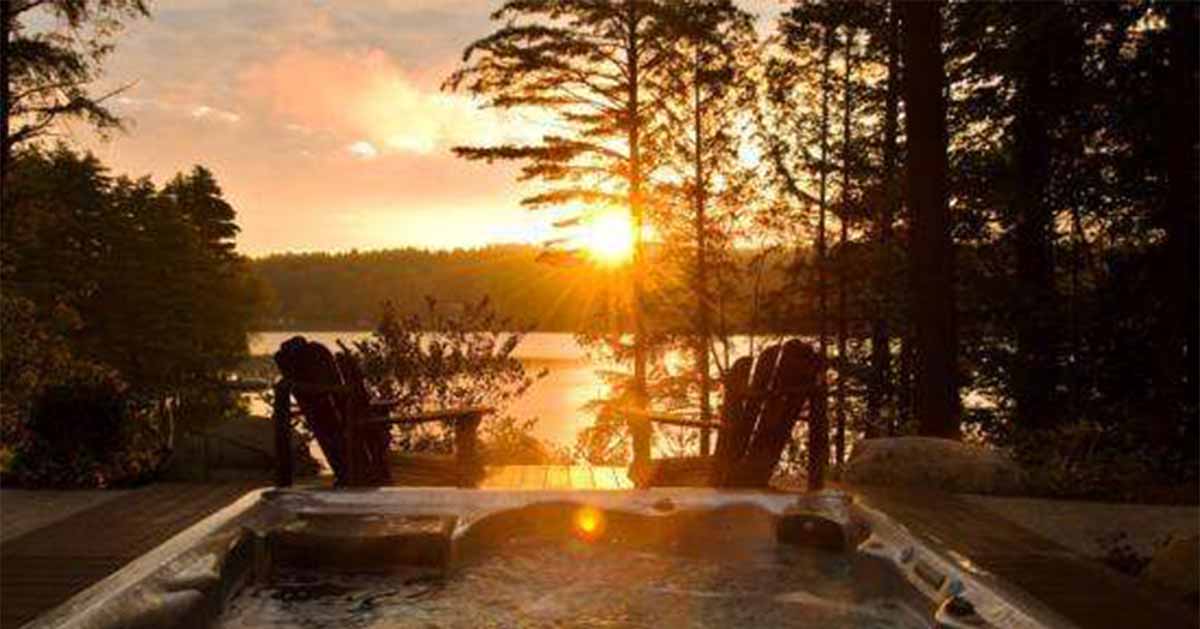 WHERE TO GET MARRIED
RENT A CAMPGROUND
If you want to get married in late summer or early fall, Adirondack Woodcraft Camps allows couples to rent their entire campground. Located on 250 acres in Old Forge, the camp offers a full slate of wedding weekend events, from outdoor activities to venues for your rehearsal dinner, ceremony, and reception. You'll have the place all to yourselves, so you and your guests can spend your wedding weekend connecting with both nature and each other.
SAY YOUR VOWS IN AN ADIRONDACK BARN
If you want to get married in an Adirondack barn, either The Barn at Lord Howe Valley or Burlap & Beams could be the perfect location. Both offer plenty of amenities – dressing barns for the bride and groom, sweeping vistas, and beautiful grounds. You can get married either inside or outside in the surrounding fields, and spend the evening celebrating in their spacious and enchantingly-lit barns. The Barn at Lord Howe Valley is located between Lake George and Lake Champlain in Ticonderoga, and offers lawn games for guests and many vintage decorations from which to choose. Burlap & Beams, in Athol (west of Lake George) also offers vintage decorations, along with a large white tent for receptions.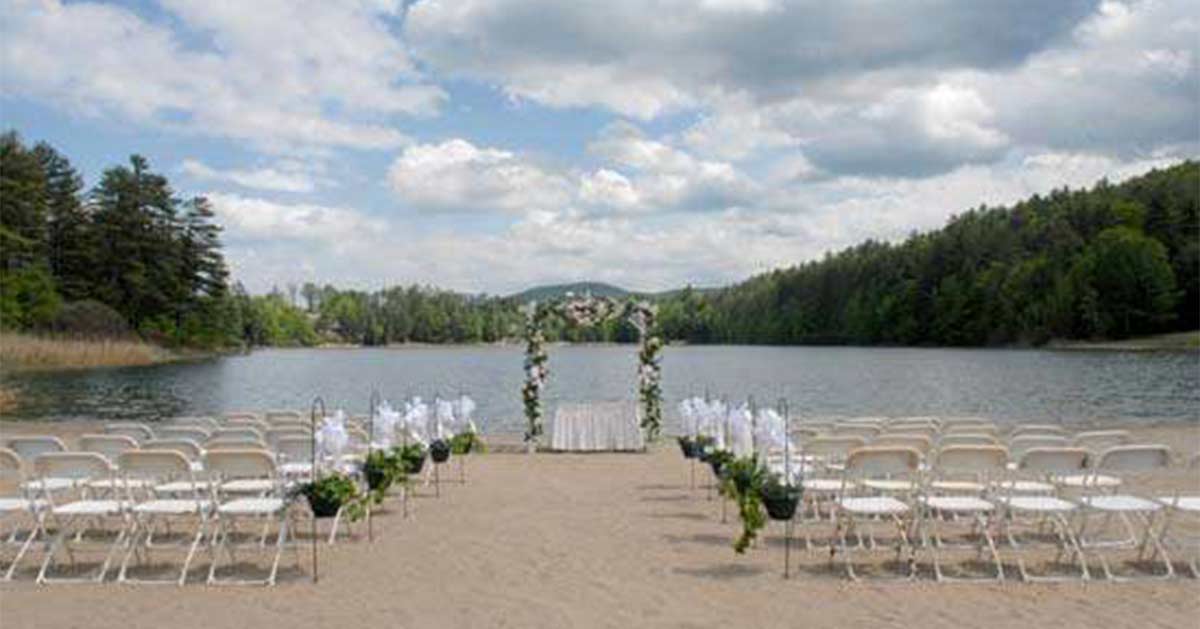 BOOK A WEDDING WEEKEND AT A CLASSIC LODGE
The Lodge on Echo Lake offers plenty of ceremony options, including a beach, a lawn under the pines, and a rustic ballroom with a large antler chandelier. The lake is quite small and you'll feel like you have your own private little piece of the Adirondacks. They have cabins as well as two private houses for your guests to stay in, and opportunities for outdoor activities to enjoy during the weekend. You can also arrange for fireworks over the lake.
Looking for a traditional camp with unique twists? White Pine Camp offers plenty of charming locations for ceremonies and wedding photos, including a Japanese Tea House on its own island and a large pergola perched on a scenic overlook. If you're trying to avoid the commercialism of a large resort, White Pine Camp feels more like a family summer home than a vacation spot, and the long boardwalk, stone bridge, and tall pines will make you feel like you stepped into an Adirondack fairy tale.
If you're having a small wedding with 20 guests or less, Fern Lodge is a luxury getaway that hosts planned elopements and petite weddings. The lodge and gardens overlook a secluded corner of Friends Lake, where you can spend the weekend surrounded by nature and those closest to you. Their petite wedding package includes roasting marshmallows over the lakefront bonfire and a boat tour of the lake.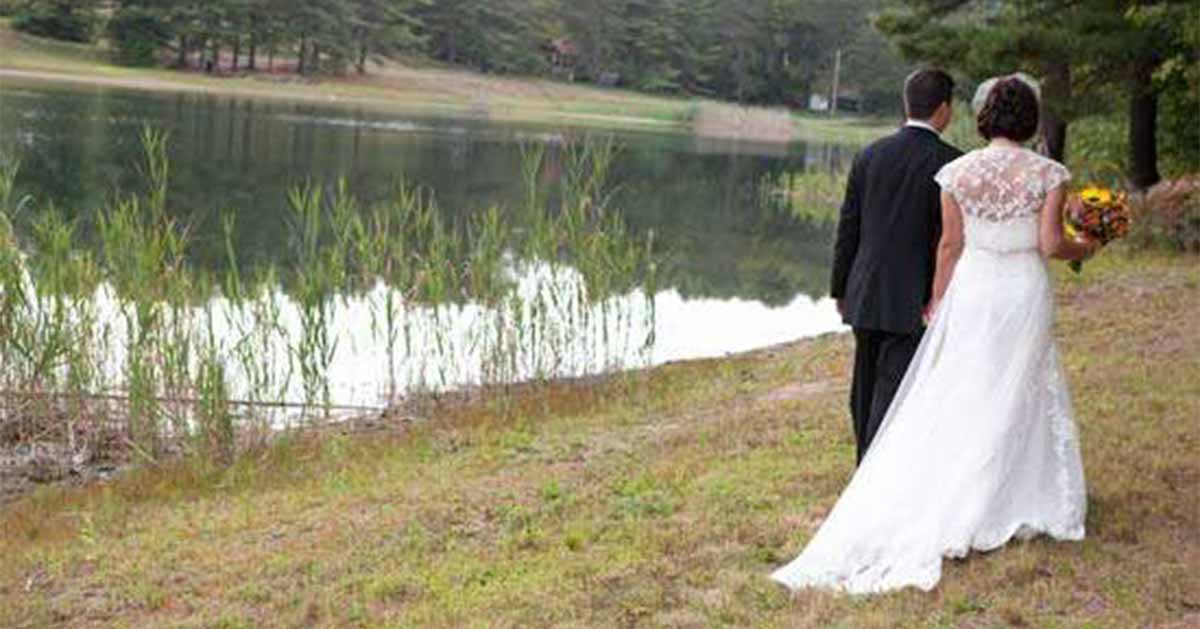 EMBRACING THE ADIRONDACK CAMP THEME
The classic Adirondack Great Camp is a fascinating mixture of wilderness and Gilded Age. So why not embrace it in the theme of your wedding?
THE ATTIRE
For your wedding dress, opt for simple elegance and old-fashioned details such as intricate lace or buttons. For the bridesmaids, choose natural tones and relaxed styles. For a little extra color and whimsy, choose dresses with a floral print. Getting married in the winter? Embrace the season and add a fur cape to you and your bridesmaids' gowns.
THE FLOWERS
Think seasonal when it comes to your flowers. Wildflowers, ferns, pine branches, and sunflowers are all great options depending on the season. For your bouquet, keep the look natural and romantic, as if you picked them in the camp's fields earlier that morning.
THE DECOR
The rustic look will be ingrained in your venue, but it can't hurt to contribute to the theme with your decorations. Hang up lanterns and string incandescent lights across the beams, and use mason jars for flowers and votive holders. Antlers, birch branches, ferns, and pine boughs, and pine cones are also great pieces of the outdoors to bring into your reception space.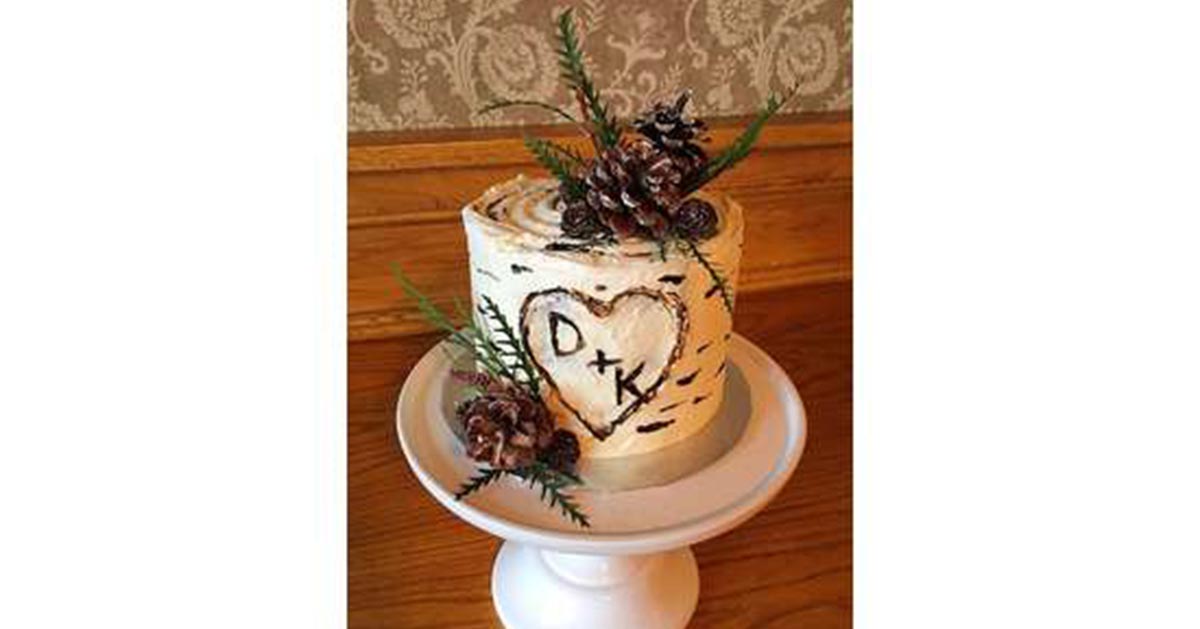 THE MENU
Who says camp food can't be fancy? For your menu, embrace the great outdoors and opt for food from the grill. Any camp food can be dressed up to fit the occasion. Serve skewers filled with a variety of meats, fruits, and vegetables. Add fish to the menu, such as salmon, bass, or trout. Select locally-sourced food and keep the menu down-to-earth.
Adorn your wedding cake with seasonal berries or have it decorated to look like birch bark, like the cake above from a wedding at Fern Lodge.
PHOTO OPPORTUNITIES
There will be so many locations to shoot your wedding portraits. Pose against the backdrop of your camp or barn's architecture, take a stroll along the lake, or head out in a boat. Mountaintop vistas, woods, and fields abound and will also make gorgeous and majestic spots for your photos.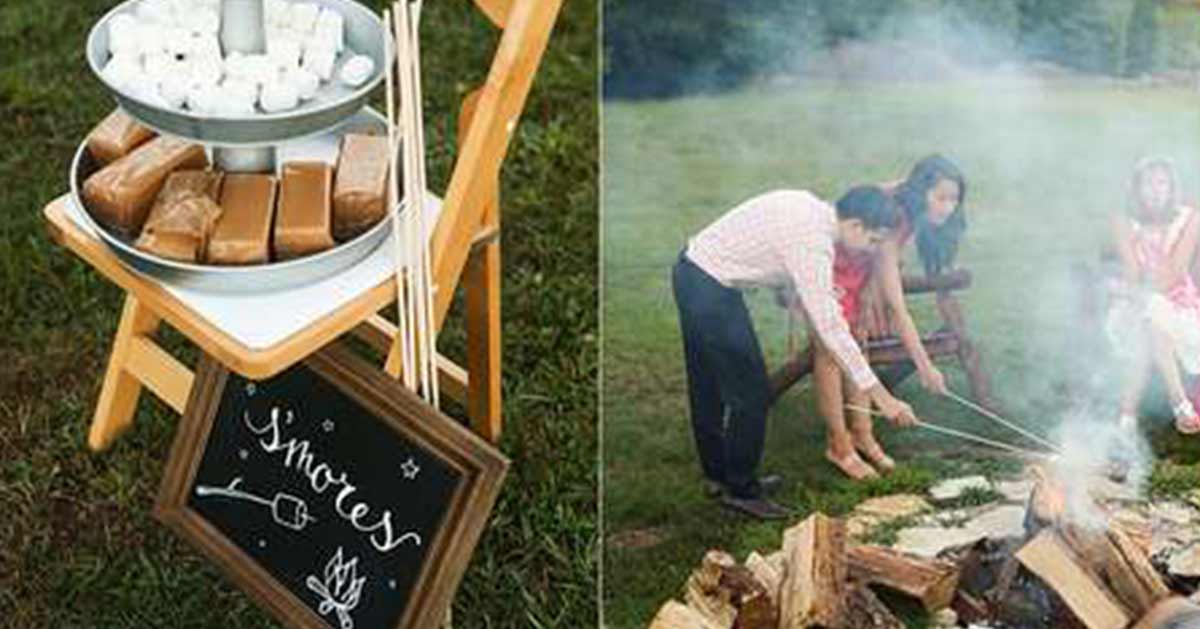 WEEKEND ACTIVITIES
Since you and your guests are away at camp, take the opportunity to spend some time in the great outdoors relaxing before the ceremony. Go canoeing or kayaking, hiking, biking, or skiing, depending on the season. Feeling less adventurous? Try fun and relaxing activities. Play croquet or horseshoes, fly a kite, go star gazing, or roast marshmallows around the fire.
Feel free to run with the Adirondack camp theme, embracing the wild, pristine surroundings and the romantic nostalgia of its Gilded Age past. Getting married at a camp or in a barn can be just the combination of elegance and rusticity that you envision for your perfect wedding.